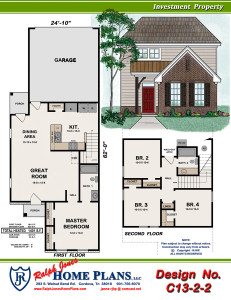 Just so my readers (well, eventual readers) will know what we do, I thought I would start with a few pictures of projects.  Our home plans start at about 400 sq. ft., although with the new Tiny House Movement, well, to tell you what I think about that, I'm obsessed!  But haven't published any of those … yet.
Here is a recent design I did.  Before you tell me how terrible the kitchen and bathrooms are, this was designed to be built BY Property Investors with the specific goal of renting this house out right off the bat.  Therefore, I was given a specific list of criteria.
1. MINIMAL Bathroom Cabinetry – they tried to talk me into a 24″ – 30″ vanity, but I refused to use anything less than 36″.  Granted a 36″ vanity really isn't much if you need a little space, but it has that precious extra 6″ to hold at least a curling iron… for the girls.
2. MINIMAL Kitchen Cabinetry – the investors also did not want many kitchen cabinets because they often get destroyed by renters. The fewer cabinets, the better as far as replacements.  Because I have a heart for renters (I was once a renter), I TRIED to give you more cabinets, but was shot down, so, I made a big pantry that will hopefully allow you to forgive me for the lack of cabinets.
3. Four Bedrooms, Two Bathrooms, 1350-1450 sq. ft.
4. Double Garage
There were a few other criteria, like the overall width and depth of the house and of course there were some restrictions regarding the lot size, so the physical footprint trumped some of the above criteria.
If you were buying this property, particularly in this area of the country, this would definitely not be a great choice, yea there are lots of bedrooms and 2 full baths AND a garage, but the cabinets aren't ideal especially for a homeowner.  However, if this size house is what you are looking for, maybe the "normal version" of this plan would be more appealing.  Notice the expanded bathroom on the first floor, the additional storage room under the stairs, the added cabinets in the kitchen as well, there are doors which close off the washer/dryer (in the plan at the beginning of this post, those are open to the world… not my choice, but to save money for the investors).  Yes, this is a rear loaded garage for use with an alley style subdivision, but we also flipped it over for a front loaded garage where the Master bedroom is on the back of the house.  Works great either way.
In either version of this plan, you could add a bonus room or even a 5th bedroom with minor modifications and that room could be added above the garage.
By the way: I'm told that this house was rented out PRIOR to it being completed for about $1300 per month.  This is pretty good in our market. Nice 4-bedroom/2 bath homes are apparently hard to come by around here… well, located in good neighborhoods.
Your thoughts and comments appreciated. If you are a property investor and build new homes for rent, what criteria would you ask for?