The Chumley (a newly constructed Single Family Home) for Rent
9859 Maggie Woods Lane; Arlington, TN 38002 (Located in the City of Memphis, TN)
Rental Information:
RENT: $1,225.00* per month
Security DEPOSIT: $1,100.00 (Fully Refundable)
Credit Check Fee: $35.00 per adult
Application Fee: $100.00 (Fully Refundable)
Preferably no pets. (Other fees apply with pets)
To qualify for this home your household income should be $3,500.00 per month.
Call or Text 901-240-3729 for more information (9 am – 9 pm please)
Email:  9859@jannezack.com
This is a newly constructed Single Family home built in 2015.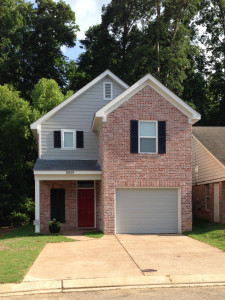 NOTE:  We just had a fence installed (9-25-2015). Now the back yard is fully fenced.  It's small, which means very little mowing is required. Perfectly private!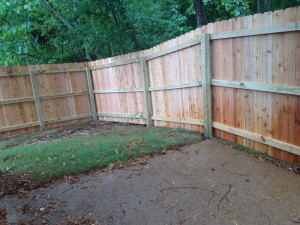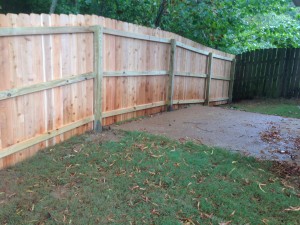 This home has an "Open Concept" Great Room which is open to the Kitchen, a large eating bar and the Dining Room. There is a HUGE Pantry (6′ wide by 3′ deep) big enough to hold a month's worth of food!  There is also a Coat Closet that is over 4′ wide, enough space for your own coats plus your guests' coats and a few children's backpacks too!  There is a Powder Room on the first floor directly across from the coat closet (in the 3rd photo below)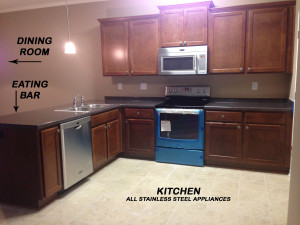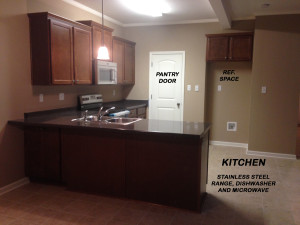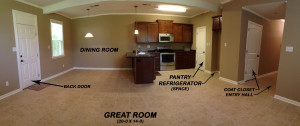 Notice the Stainless Steel appliances (Dishwasher, Range & Microwave / Vent-a-hood).
You supply the Refrigerator, Washer & Dryer.
Notice the size of the pantry! (It's so large it wouldn't fit into one picture!
Also downstairs is the Garage.  This is 20′ deep x 12′ wide.  My Ford F-150 Extended Cab Pick-up fits inside the garage and the door WILL shut!  Most vehicles are not as long as my truck, so I'm confident your car will fully fit into the garage.  There is space left over to store bicycles, lawn mowers and trimmers, etc.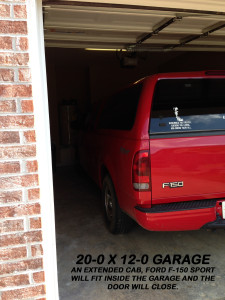 Not only is there a garage, but there is also a double-wide parking pad out front.  So you have three (3) dedicated parking spaces on the lot and will not need to rely on street parking for your extra vehicles.
There is a Powder Room on the first floor for quick access and for guest use. It has an automatic door closer on the hinge to keep the door closed when not in use.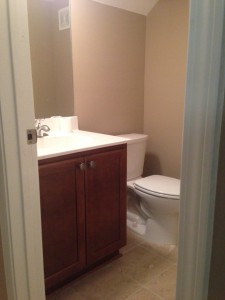 The Bedrooms are all located on the 2nd floor.
The Master: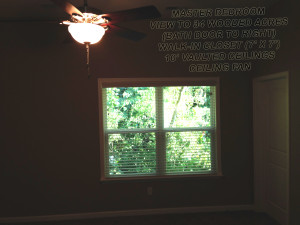 Unfortunately this picture is a bit dark, but you'll see a ceiling fan, 10′ ceilings and a beautiful wooded view.  There are 34 acres of land behind this property. The view is wonderful.
The Master has a 7′ x 7′ walk-in closet and it's own En-Suite Bathroom.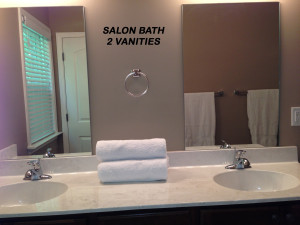 Dual Vanities, natural light and plenty of storage in the cabinets and 3 drawers between the sinks.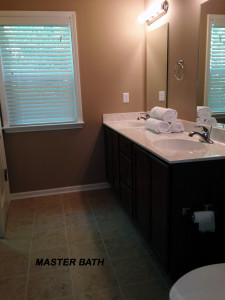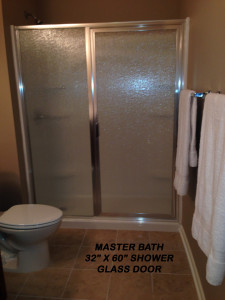 Stand-Up Shower is 5′ long!
Bedroom 2 also has a vaulted ceiling (10′ high) and a Walk-In closet!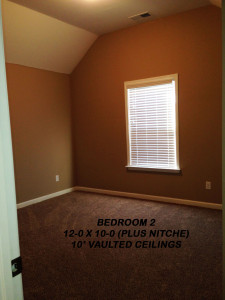 There is a window in this closet, the small window with the shutters on the front of the house. Every child who has experienced this closet wants to live here!!!  We utilized the space  above the stairs to open this closet up for more storage.  What kid CAN'T keep their room clean with a closet this big?
Bedroom 3 is 11′ x 11′ and has a 7′ long closet.  It's not walk-in, but it is HUGE for a rental unit.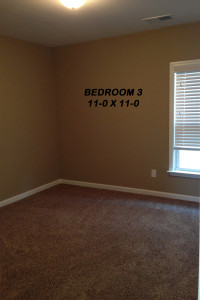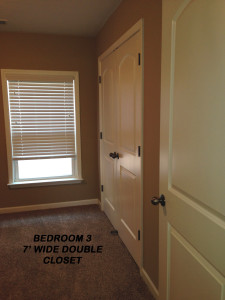 The Secondary Bathroom has a 4′-6″ vanity.  It is large enough for several kids to have space in a drawer or on the counter.  There is a Tub / Shower Combo in this bathroom.  This bathroom is located between Bedroom 2 and 3 for easy access.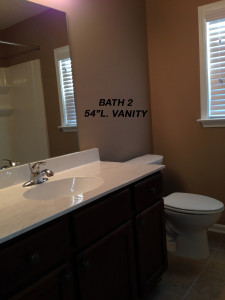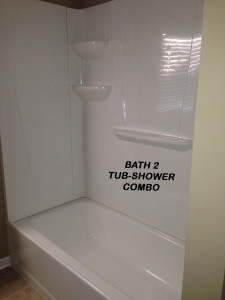 The Laundry Room is on the 2nd floor with all the bedrooms (to save you from running up and down the stairs with all the clothes). There is also a huge linen closet up there too!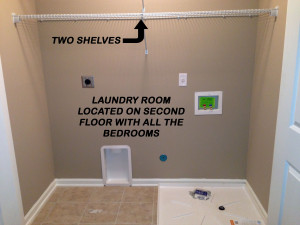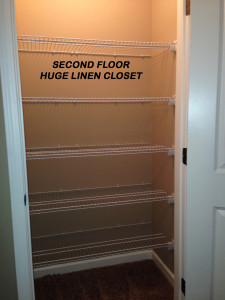 This linen closet is extra deep.  There is space between the 16″ deep shelves and door so that you can store your ironing board, or an upright vacuum cleaner. Your luggage would probably fit under the bottom shelf.