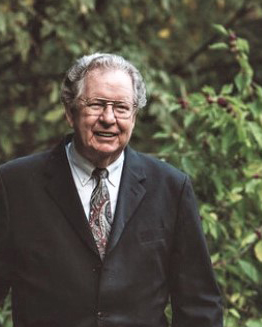 Ralph Rayburn Jones, Sr., 84, of Germantown, TN passed from this life and into the presence of the Lord Jesus on November 2, 2021, after a short illness. He was preceded in death by his parents, Richard Anderson and Lillian Jones, brother Gerald Glen Jones, all of Pontotoc, MS, his first wife, Caroline Frances (Stewart) Jones of Longview TX, as well as his sweet granddaughter, Jessica Louise Jones and his grandson, USMC Sgt. Garrett Anderson Misener.
He leaves behind his lovely bride, Peggy Jones, of fifty-one years. He was a dedicated father to six children: Karen (Marcus) Russell, Ralph Jr. (Joey) (Anne) Jones, Ray (Marilyn) Jones, Jannette (Daniel) Zaccagnino, James (Rita) Jones, and John Jones; along with twelve surviving grandchildren and five great-grandchildren.
He was well known in the home building industry in the Midsouth for over 60 years as the "designer of award-winning homes since 1964" and was referred to by the Memphis Commercial Appeal, as "the man of 10,000 plans" through his company, Ralph Jones Home Plans.
Ralph loved to write stories of country life from back in the day. He has been published in many smalltown periodicals including the Pontotoc Progress Newspaper, Tom Bigbee Newsletter and several national magazines such as Reminisce and Country Days. He also enjoyed drawing "Cousin Cornpone" cartoons which were sure to elicit a groan or a giggle from his friends and family.
Ralph gave his life to the Lord as a young man at the First Baptist Church of Pontotoc, MS, and was instrumental in bringing several people to the lord throughout his life, including his best friend from College, Bill Morris. Ralph most recently was a member of Bellevue Baptist Church and enjoyed serving as an ordained deacon in several churches. He participated in many church and volunteer ministries throughout the years.
In his early years, he led the music in small churches throughout northwest Mississippi. He spent more than 20 years portraying a Magi in the Singing Christmas Tree and a Pharisee in the Memphis Passion Play at Bellevue. He was the Captain of the Bellevue Banner Bearers, participated in the Adult Handbell Choir, sang bass in the adult choir and the "Him Singers", played the part of "Big Toe" in the beloved children's musical (which is the name Dr. Rogers called him from that point forward). He volunteered in the church nursery holding the precious bed babies and "humming" them to sleep with his reverberating bass voice when they were inconsolable. He loved "walking security" at the church with his retired police buddies. He participated in, and designed the logo for, the R.O.M.E.O. Club (Retired Old Men Eating Out). He also loved being a greyhound bus driver for several churches for 40 or more years taking chilcren, youth and adults to camps, mission trips and choir tours. He truly had the gift of service.