I can't believe the progress as we near the end of construction.
We have Brick.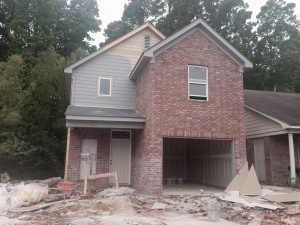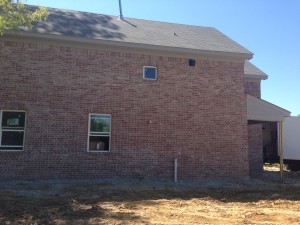 We have a cute little porch over the back door: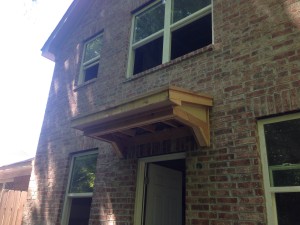 We have CABINETS!!!!!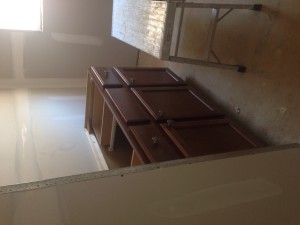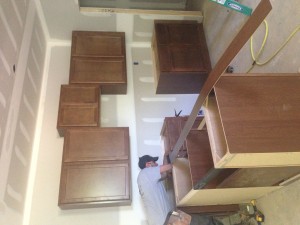 These are the kitchen cabinets here.  He is working on my corner cabinet.  This one faces him (the Dining Area). The dead corner is no longer dead!  I know this cost me a little money, but I wanted to take advantage of every square foot in this house. This may only house tupperware or children's toys, but it is a much needed cabinet.
The cabinets now have crown molding around the top which makes them look like a custom home rather than a rent house. Stove goes against the wall and the sink/dishwasher will be in this island. The dining room looks HUGE with the cabinets now in! I Think this house will be NICE when finished!  I know there aren't that many kitchen cabinets, but there will be a lot of counter space and the bonus, a HUGE pantry.
Below we have a pic of the Vaulted Master Bedroom.  Of course it doesn't look like much YET, but it will be amazing.  10′ ceilings in a rent house.  Nice!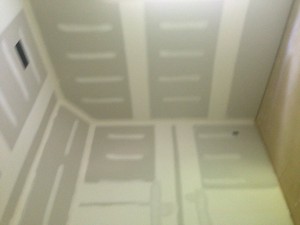 Walk in Closet(s):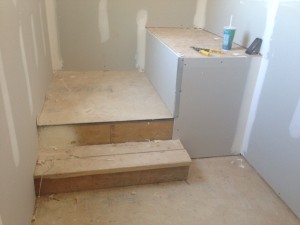 This is the closet for the larger of the kids' bedrooms.  It is a walk-in.  I utalized the space over the staircase (being sure to leave ample head-height below).  My framers made these two landings in the closet so that the space above could be used.  We will have double rods on the right wall until you get to that highest shelf, but the top rod will continue in an 'L' shape around the back wall (straight ahead).  The tops of these two shelves will be carpeted as well as the step.  There is a window on the left wall just out of the picture.  I can only imagine what a little kid will do with this closet as a secret hide-out.  I had a closet like this as a child and LOVED sitting on the shelf reading books.
The view: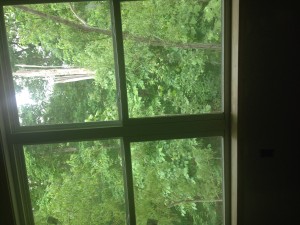 The view out the master bedroom window is stunning.  There are undeveloped lands beyond my property.  I'm not sure how long it will stay this way, but for now, it is extreamly peaceful.  I saw deer walking across the property a few months ago and then as spring budded, there was a lone dogwood blooming near this dead tree stump.  Some of the trees will go away, we have some scrub-type trees too close to the house which we will remove, but this will give a nicer yard to my future tenants and will keep them from falling on the house during a storm.  Best of both worlds, loads of trees, just not on my property!