I say we're just beyond the 1/2 way point because I've spent a little more than 1/2 my money, so we'd BETTER be past the 1/2 way point!
We are getting Sheetrock and Brick this week and probably a bit of next week too.  Both are going well!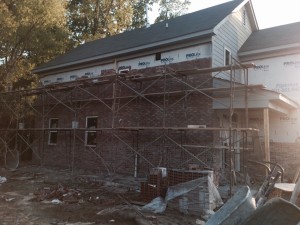 Here we have the left side of the house.  They are almost finished with it.  I didn't bother to look at the back side.  The front and Right sides are only about 48″ high, but in a day or two they'll all be finished.
The front porch, which I believe I've talked about previously, can't have a window at the bottom of the stairs (unless we bought a really expensive one), so we cut that window, but to keep it from looking so bad/plain, we are adding a pair of closed shutters to give the front a little "pretty".  Those haven't been put up yet, but it will give a punch of "non" color to the front. (They are black, which really isn't a color… go ask your art teacher.)
Here's a bit of the front.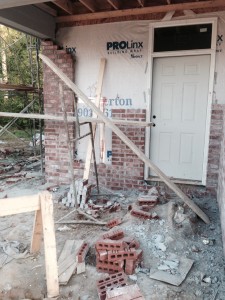 There really isn't much to see as far as the sheetrock is concerned, so I'll save photos of that for a later post.