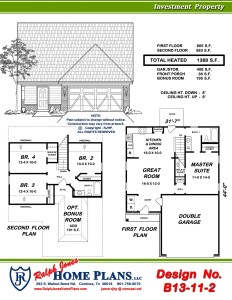 I had a conversation with an Engineer yesterday morning.  He actually did the inspections on my current investment house that is being built.  During our conversation he mentioned that a LOT of investment homes/rent homes are being built in our area, especially North Mississippi.  I was surprised to learn this, it is rather a weird thing to build a brand new house strictly as an investment property, well, in my circle it is.  Apparently it is done in other places quite often… I've always thought that apartments were built just to rent which seems to be normal in most areas until they convert them to condos and sell them, which is strange to me as apartments in our area tend to become war zones, a place where sane people don't even think of entering.  But I digress.
This is a new plan that I developed specifically to fit onto some lots in a particular neighborhood.  The footprint is really small, but given the available building area, it works.  It really isn't a bad layout, if it were a house for SALE, I would like to fix a lot of things, the master bedroom/bathroom situation for starters, and the laundry room location and size for another.  But if you think about it, this could really be a great living plan given it's size.  The bedrooms upstairs are actually pretty large!  There are even 3 walk-in closets in this house, which is unheard of as a rule in a 1300 sq. ft. house.
In 1388 sq. ft. there are  4 dedicated bedrooms!  There is even an expandable area over the garage which could make yet another bedroom (if a window were added).
Think about the life many people live today with blended families.  One week you have 2 kids a dog and a cat.  But twice a month (or more) you have 6 kids and stuff everywhere!  A bunch of kids who all want to watch a different TV program, half of the kids wanting to play video games.  A bonus room in a small home like this could be invaluable!
This 4 bedroom, 2 bath, 2-car garage works, though tight.  It was designed as a rental, for people passing through a phase, however, with a few tweaks it could be the ideal down-size home for those who don't want much space.
I'd love to hear your thoughts about this one.